It's Wednesday, and by now you should know the drill. Time to link up with Style Me Weekly!

Here's how the linkup works:
1. Every Wednesday, choose one of your FAVORITE looks to link up! There is no theme, so anything goes
3. Comment on the hosts's blogs and check out 3 new blogs thank linked up (it never hurts to make more friends!)
4. We will choose 1-2 favorites to highlight at the next Style Me Weekly linkup, so link back to our blogs to be considered
5. Share your style on Instagram and Twitter with #stylemeweekly
6. HAVE FUN!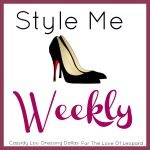 Linking up with: